Seminari Theoloji Malaysia
Centre for Theological Education for Extension
Course: Vocational Holiness and Marketplace Spiritual Formation
16-18 June & 30 June, 1-2 July 2017
(Friday 8.00pm -10.30pm; Saturday 9.00am -6.00pm; Sunday 2.00pm-6.00pm)
Course Instructor: Dr Alex Tang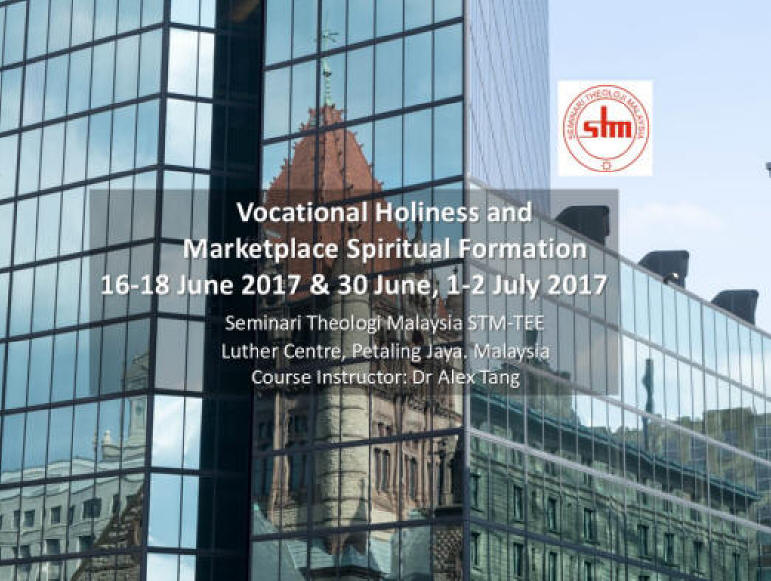 For Students Only
Download my Lecture Notes here
Course description
Committed Christians are often concerned about discovering God's will for their lives in terms of what occupation to take up or who to marry. The deeper question will be to discern what is God's calling - to be and become. Another concern is how they are to live and have their being in their workplace and marketplace. Central to this is how to maintain the vitality of their spiritual life and growth in the modern lifestyle that is extremely hectic and exhausting. This course will deal with Christian discernment or decision-making and the theology of God's calling and vocation. It will examine Ignatian, Quaker, Puritan and Wesleyan approaches to discernment. The issue of hectic and busy lifestyles will be examined and approaches developed to nurture the spiritual life. The concepts of Missio Dei and Sabbath in their vocations will be developed. This course will be particularly useful for those who are re-examining their vocations, those who are graduating or graduated and are transitioning into the world outside the seminary, and those who wants to learn more about vocation, calling and their life in the workplace. Designed for seminarians, pastors, church workers or lay people.
Course Objectives
The expected general outcome of this course is that students will demonstrate deeper understanding of vocation and calling, spiritual growth and transformation; and commitment to a disciplined spiritual life in the workplace.
By the end of the course it is expected that students will specifically demonstrate:
1. A deeper understanding of his/her calling and vocation.

2. The ability to exercise discernment and a broader appreciation of discernment as practiced by different Christian traditions.

3. A concise understanding of the theology of work and rest.

4. An enlarged knowledge base of spiritual formation and transformation processes.

5. The capacity to integrate their own formation and transformation process in their work and their rest.
Course Text Books
Choon Khing, Voon. Discerning God in Our Life: The Dance of Two Wills. Seremban, Malaysia: Seminari Theologi Malaysia & Genesis Books, 2016
Tang, Alex. Till We Are Fully Formed: Christian Spiritual Formation Paradigms in the English-speaking Presbyterian Churches in Malaysia. Kuang, Malaysia: Malaysia Bible Seminary, 2014

Course Reader.
The course reader is a number of articles and book that you can download. I have selected books, journals and articles for you which will be comprehensive and useful if you cannot get copies of other recommended texts. This may be accessed from my website Kairos Spiritual Formation <www.kairos2.com/stm.voc.holiness.2017>
Course Structure
The course is divided into three segments:
1. Pre-campus preparation

2. On-campus component

3. Post-campus reflecting, assimilating and synthesizing.
1. Pre-campus preparation
a. State your personal goals for attending this course (Refer to Appendix B)
b. Read at least 600 pages from either the Course Reader and/or Recommended Books.
c. Prepare your Personal Timeline Presentation (see below)
2. On-campus component
The on-campus component will be held on two weekends 16-18 June & 30 June, 1-2 July 2017. As this is a compact concise course, all students are expected to attend all the sessions. The following is a guide to the content of the on-campus component. However, there is scope for some flexibility based on the developing class dynamics and needs.
The themes covered in this course will include
1. Vocation and Calling
2. Spiritual formation and the Christian life
3. Dynamics of spiritual formation
4. Elements of spiritual formation
5. Discernment and the spiritual life
6. Theology of work and rest
7. Soulcare in the workplace
8. Spiritual formation and the marketplace
9. Facing giants in the marketplace
10. Vocational holiness and a Rule of life
Time

Friday 16 June 2017

Saturday 17 June 2017

Sunday 18 June 2017

9.00am

Theme 2

Spiritual Formation and the Christian Life

12.30 pm -2.00pm

Lunch

2.00pm – 6pm

Student personal timeline presentations and discussion

Theme 3

Dynamics and Elements of Spiritual Formation
Time

Friday 30 June 2017

Saturday 01 July 2017

Sunday 02 July 2017

9.00am

Theme 5

Theology of Work and Rest

12.30 pm -2.00pm

Lunch

2.00pm – 6pm

Group case studies presentations and discussion

Theme 6

Spiritual Formation and the Marketplace
3. Post-campus reflecting, assimilating and synthesizing
The book review, reflection, and research papers are to help you reflect, assimilate and synthesize your perception of spiritual formation. See the details below.
Course assessment
Attendance and active participating in the learning process is assumed.
Formal assessment will be based on the following:
3 credits

1.

Participation

10%

2.

Personal Timeline Presentation

15%

3.

Case Studies Presentation

15%

4.

Book Review

20%

5.

Research Paper

40%
1. Participation
As this is an intensive course, full attendance and participation is expected of each student.
2. Personal Timeline Presentation
a. This exercise is to help you appreciate the hand of God in guiding you to what you are doing today – your vocation or calling
b. Identify the major events and persons that affected you to become what you are doing today. Divide your life in segments of 7 years each. What are the significant major events (opportunities/circumstance) and persons that lead to who you are and what you do today? These may be positive or negative events or encounters.
c. Prepare a 5 minutes (maximum) presentation on "Timeline: My Vocation "
i. Introduce yourself to the class
ii. Identified the key formative events/persons
iii. Share how you were affected by these events/persons
d. Conclude with answering this question "In what ways have God called/led you to be what you are doing today"
e. You may use PowerPoint but are encouraged to be creative in this presentation.
f. After the discussion, revise your notes and email a one-page summary to me.
Due date: 09 July 2017
3. Case Studies Presentation
a. Students will be divided into groups and given different case studies.
b. The students are expected to meet together to discuss the case studies, research the topic, come to some consensus on the issues and present to the rest of the class their conclusions during one of the class sessions. Marks will be assigned to the whole group, not individually.
c. During presentation:
i. A hand-out on the topic/issue with relevant references/citation (to be given to lecturer and rest of the class).
ii. A 10 minutes presentation followed by questions and discussion.
d. After the discussion, get together, revise your notes and email a one-page summary (maximum) to me. Only the team leader is to do this. Marks will be given equally for this team effort. Members please check that your team leader submits as marks will also be deducted equally.
Due date: 09 July 2017
4. Book review
Write a 1000 words review of
Choon Khing, Voon. Discerning God in Our Life: The Dance of Two Wills. Seremban, Malaysia: Seminari Theologi Malaysia & Genesis Books, 2016
Submission by emailing to me.
See Appendix A on how to write a book review.
Date due: 02 November 2017
5. Research paper
Write a reflection paper on any topic that is covered in this course. Please confirm the topic with me before writing.
This research process is developed in the following way:
i. identify a problem/topic/issue. It must be related to this course.
ii. read up on the problem/topic/issue
iii. develop a thesis/abstract/outline/solution and framework
iv. read more and reflect on readings
v. start writing
This research paper should be between 2000 words excluding the reference list.
Submission by emailing to me.
Due date: 02 November 2017
Submission of assignments
Students should submit all assignments on time. Late assignment will not be marked and the course is marked incomplete. If you find you are not able to meet the deadline you must apply for extension from me at least 3 days before the deadline.
· Email: send a soft copy of your assignments should be emailed to draltang@yahoo.com. Please send as MS Word document format not pdf. Acknowledgment of receipt of assignment will normally be sent within 72 hours.

· Submit as hard-copy: please send by mail to Dr. Alex Tang, Johor Specialist Hospital, 39B, Jalan Abdul Samad, 80100 Johor Baru. It is recommended that you register your item. Let me know by email or SMS when you have posted your assignment.
In all cases, ensure that you keep a copy of your submitted assignments in case your copies are lost in transit in cyberspace or the mail.
Selected Reading List
This list is by no means exhaustive but it contains literature for the course and resources for further reading.
Further reading
Vocation/Calling
Klaus, Issler. Wasting Time with God: A Christian Spirituality of Friendship with God. Downers Grove, IL: InterVarsity, 2001.
Merton, Thomas. Contemplation in a World of Action. Notre Dame: University of Notre Dame Press, 1998.
Peterson, Eugene H. Run with Horses: The Quest for Life at Its Best. Downers Grove, IL.: InterVarsity Press, 1983.
Veith Jr, Gene Edward. God at Work: Your Christian Vocation in All of Life, Focal Point Series, edited by Gene Edward Veith Jr. Wheaton, IL: Crossway Books, 2002.
Discernment
Mueller, Joan. Faithful Listening: Discernment in Everyday Life. Lanham, MD: Sheed & Ward, 1996.
Nouwen, Henri J.M. The Wounded Healer: In Our Own Woundedness, We Can Become a Source of Life for Others. New York: Doubleday, 1972
Smith, Gordon T. Listening to God in Times of Choice: The Art of Discerning God's Will. Downers Grove, IL.: InterVarsity Press, 1997.
Wink, Walter. Engaging the Powers: Discernment and Resistance in a World of Domination. Minneapolis MN: Fortress Press, 1992.
Work and Rest
Allender, Dan B. Sabbath, The Ancient Practice Series, edited by Phyllis Tickle. Nashville, TN: Thomas Nelson Publisher, 2009.
Burford, Bob. Stuck in Halftime: Reinventing Your One and Only Life. Grand Rapids, MI: Zondervan, 2001.
Catherwood, Fred.The Creation of Wealth: Recovering a Christian Understanding of Money, Work, and Ethics. Wheaton, IL: Crossway Books, 2002.
Dawn, Marva. Keeping the Sabbath Wholly: Ceasing, Resting; Embracing; Feasting. Grand Rapids, MI.: William B.Eerdmans Publishing Company, 1989.
Grudem, Wayne. Business for the Glory of God: The Bible's Teaching on the Moral Goodness of Business. Wheaton, IL.: Crossway Books, 2003.
Palmer, Parker J. The Active Life: A Spirituality of Work, Creativity, and Caring. San Francisco: Jossey-Bass, 1990
Schumacher, Christian. God in Work: Discovering the Divine Pattern for Work in the New Millennium, Oxford: Lion Book, 1998.
Stevens, R. Paul. The Other Six Days: Vocation, Work, and Ministry in Biblical Perspective. Grand Rapids, MI.: William B. Eerdmans Publishing Company, 1999.
Stevens, R. Paul, and Alvin Ung. Taking Your Soul to Work: Overcoming the Nine Deadly Sins of the Workplace. Grand Rapids, MI: Wm. B. Eerdmans Publishing Co, 2010.
Witherington III, Ben. Work: A Kingdom Perspective on Labor. Grand Rapids, MI: Wm. Eerdmans Publishing Co, 2011.
Wong, Kenman L., and Scott B. Rae. Business for the Common Good: A Christian Vision for the Marketplace, Christian Worldview Integration Series. Downers Groove, IL.: InterVarsity Press, 2011.
Spiritual Formation
Andrews, Alan, ed. The kingdom life: A practical theology of discipleship and spiritual formation. Colorado Springs, CO: NavPress, 2010.
Foster, Richard J. Celebration of discipline: The path to spiritual growth. London: Hodder & Stoughton, 1989.
———. Streams of living water: Celebrating the great traditions of Christian faith. New York: HarperCollins, 1998.
Peterson, Eugene H. Subversive spirituality. Grand Rapids, MI.: William B. Eerdmans, 1997.
———. Practice resurrection: A conversation on growing up in Christ. Grand Rapids, MI: William B. Eerdmans, 2010.
Wilhoit, James C. Spiritual formation as if the church mattered: Growing in Christ through community. Grand Rapids, MI: Baker Academic, 2008.
Willard, Dallas. The spirit of the disciplines: Understanding how God changes lives. New York: HarperCollins, 1988.
———. Hearing God: Developing a conversational relationship with God. Downers Grove, IL: InterVarsity Press, 1999.
Tan, Siang-Yang. Rest: Experiencing God's Peace in a Restless World. Ann Arbor, MI: Servant Publication, 2000.
Contact me
Dr Alex Tang
Associate Professor of Paediatrics, School of Medicine, Monash University Malaysia; Senior Consultant Paediatrician, Johor Specialist Hospital; Director, Spiritual Formation Institute; Director, Kairos Spiritual Formation Ministries; Adjunct Professor, East Asia School of Theology, Singapore; Malaysia Bible Seminari and Seminari Theologi Malaysia, Malaysia
email: draltang@yahoo.com | website: www.kairos2.com; www.alextang.org |Blog: www.alextang.blog | Facebook: www.facebook.com/dr.alex.tang | Twitter: www.twitter.com/alexthtang
Appendix A: Writing a Book Review
A book review is not the same thing as a book report, which simply summarizes the content of a book. When writing a book review, you not only report on the content of the book but also assess its strengths and weaknesses. Students sometimes feel unqualified to write a book review; after all, the author of the book is a professional [historian]. However, even if you cannot write from the same level of experience and knowledge as the author, you can write an effective review if you understand what the assignment requires. In writing a review you do not just relate whether or not you liked the book; you also tell your readers why you liked or disliked it. It is not enough to say, "This book is interesting"; you need to explain why it is interesting. Similarly, it is not enough to report that you disliked a book; you must explain your reaction. Did you find the book unconvincing because the author did not supply enough evidence to support his or her assertions? Or did you disagree with the book's underlying assumptions?
To understand your own reaction to the book, you need to read it carefully and critically.
As a critical reader, you are not passive; you should ask questions of the book and note reactions as you read. Your book review then discusses those questions and reactions. Though there is no "correct" way to structure a review, the following is one possible approach.
• Summarize the book and relate the author's main point, or thesis. (Somewhere early in the paper, identify the author briefly.) [One paragraph]
• Describe the author's viewpoint and purpose for writing; note any aspects of the author's background that are important for understanding the book. [One paragraph]
• Note the most important evidence the author presents to support his or her thesis. [One or two paragraphs]
• Evaluate the author's use of evidence, and describe how he or she deals with counter evidence. [One paragraph]
• Is the book's argument convincing? If so why, if not, why not. Cite examples from the text. [One paragraph]
• Compare this book with other books or articles you have read on the same subject. [One paragraph]
• Conclude with a final evaluation of the book. You might discuss who would find this book useful and why. [One paragraph]
NOTE: "Critical" does not mean negative; skeptical does not mean cynical. If a book is well written and presents an original thesis supported by convincing evidence, say so.
A good book review does not have to be negative; it does have to be fair and analytical.
Adapted from "How to Write Book Reviews for Michael Kucher's Classes at UWT." Available from http://courses.washington.edu/tande/book_reviews.htm. Internet. Date accessed 12 May 2006
--------------------------------------------------------------------------------------------------------------------------------------------------------------------------------------------------------------------------------------------------------------------------------------------------------------------------------------------------------------
Appendix B: Personal Goals Form
Name__________________________________ Date_____________________
[Prayerfully think about the proposed direction of this course, especially the objectives, then complete the following and hand it to Dr Alex Tang on 16 June 2017, the first day of on campus course. You might want to keep a copy for yourself.]
My personal goals for this course are (try to be as specific as possible)
Concerns/contexts/questions I would particularly like to see addressed in the course are:
-------------------------------------------------------------------------------------------------------------------------------------------------------------------------------------------------------------------------------------