Status Epilepticus
Management of Status Epilepticus (in Royal Children's Hospital of Melbourne)
If seizure persists or the onset has not been witnessed, pursue

active management

(see management algorithm and drug dose table):
Support airway and breathing, apply oxygen by mask, monitor.

Secure IV access, check bedside BSL and send urgent specimen for calcium / electrolytes or venous blood gas. If hypoglycaemia present, also seeᅠ

Hypoglycaemia guideline

Give benzodiazepine.

Repeat benzodiazepine after 5 minutes of continuing seizures.

If convulsion continues for a further 5 - 10 minutes, commence phenytoin or phenobarbitone.

Consider pyridoxine (100mg IV) in young infants with seizures refractory to standard anticonvulsants.

Seek consultant assistance if seizure not controlled.ᅠ Anticipate need to support respiration.ᅠ Thiopentone and

rapid sequence induction

(RSI) may be required for seizure control.
ᅠDrug

Route

ᅠDose

ᅠComments

Midazolamᅠᅠ

0.15mg/kg
0.15mg/kg
0.5mg/kg (max 10mg)

IV route preferable but

alternate routes

can be used if rapid IV access not achieved.

If 2 appropriate doses fail to terminate the seizure, further doses are unlikely to be effective and increase the risk of respiratory depression.

Diazepamᅠ

IVᅠ
PR


0.2mg/kg
0.4mg/kg (max 10mg)

See above, as for midazolam.

Phenytoin
Phenobarbitoneᅠ

IV
IVᅠ

20 mg/kgᅠ
20 mg/kgᅠ

Both given as loading doses over 30 minutes in a monitored patient.

Midazolam Infusionᅠ

ᅠIVᅠ

Titrate dose
1 - 5 mcg/kg/min

Incremental increase until control.ᅠOnly to be initiated in a high dependency setting with involvement of senior staff.ᅠ May be considered for treatment of refractory seizures as an alternative to RSI and ventilation.
Taken from Paediatric Protocols for Malaysian Hospitals (2nd Edn)
STATUS EPILEPTICUS
• any seizure lasting > 30 minutes or
• intermittent seizures, without regaining full consciousness in between, for >30 minutes
However, any seizure > 5 minutes is unlikely to abort spontaneously, and should be treated aggressively. Furthermore, there is evidence of progressive, time-dependent development of pharmaco-resistance if seizures continue to perpetuate.
Refractory status epilepticus: seizures lasting for >60 minutes or not responding to adequate doses of benzodiazepine and second line medications.
<![if !vml]>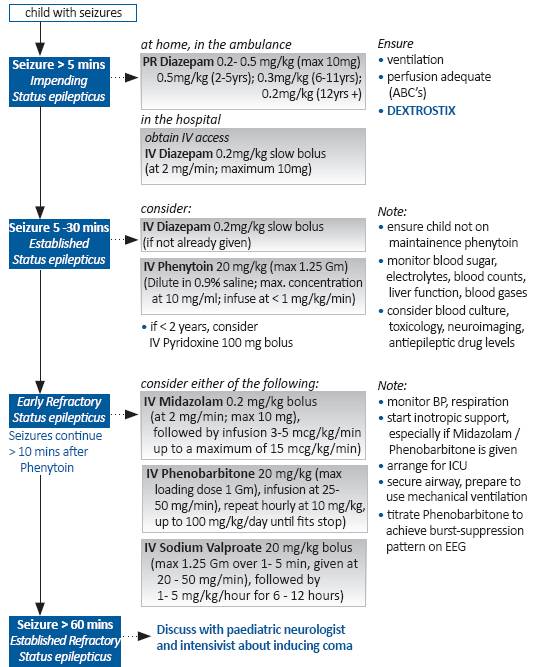 <![endif]>
Salient Points
• apart from terminating seizures, management of SE should include, identifying and treating underlying cause
• presence of SE may mask usual signs and symptoms of meningitis or encephalitis, resulting in a danger of overlooking life-threatening infections.
• common mistakes in failing to treat status epilepticus (SE) are under-dosing of anticonvulsant and excessive time lag between doses/steps of treatment
contributed by Ji Keon (Monash)