Boy-Girl Relationship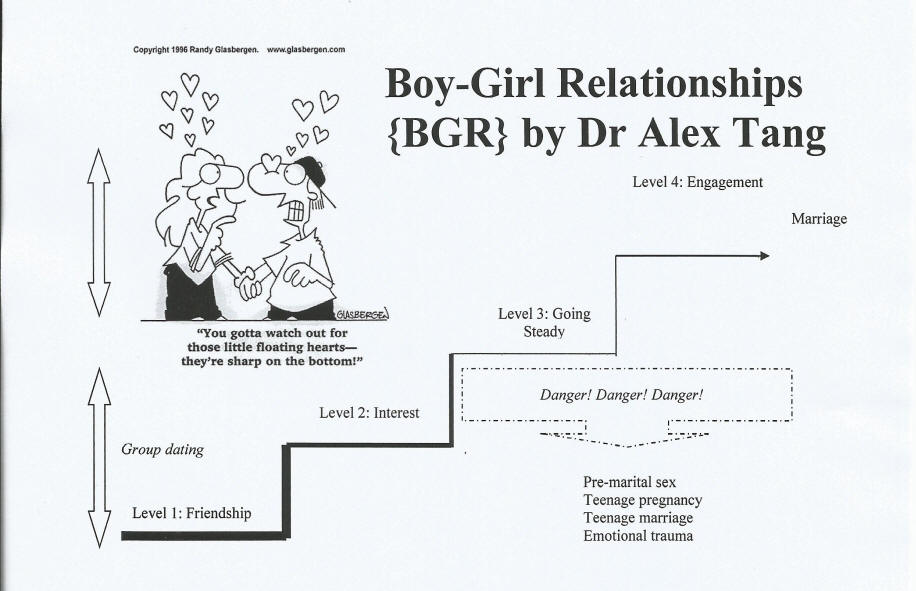 1. Level One: Brother/Sister (Friendship).
1.1 Process:
MATURITY – social, spiritual, physical and emotional growth.
1.2 What guidelines do you need to follow in your relationship with the opposite sex when you are in the process of growing and maturing?
q relationship
1 Tim 5:1
,2
q friendship
1 Sam 18:1-4
Prov. 17:17
Eccl. 4:9,10
q honesty
q 'give attention to all, intention to none'
q interpersonal relationship skills.
q 'people are people and not things to be used'
q communication skills.
Levels of communication:
(1) cliché
(2) reporting facts
(3) expressing ideas and judgement
(4) expressing emotions
(5) peak communication
q commitment to Lordship and discipleship
Matt
Matt 10:34-39
Luke 9:23
Rom 12:1
2. Level Two: Interest.
2.1 Process:
AQUAINTANCE - getting to know one another.
2.2 What guidelines would you follow when you 'get interested' in a person of the opposite sex?
q dating
q some considerations in choosing a partner
q non-Christians
Ex. 34:12-16
Amos 3:3
2 Cor. 6:14-18
1 Cor. 2:14
q wait
Psalms 27:14
Isa. 64:4
Isa. 30:18
q how to discover God's will?
3. Level Three: Going Steady.
3.1 Process:
SHARING – sharing deeply one's life" goals and interests. To know for sure that both of you make a good marriage risk and that your love is enduring.
3.2 What guidelines would you follow to enjoy a balanced, developing and God honoring relationship?
q knowing for certain that you are in love with the other person.
q limiting physical involvement. - petting
q purity
Acts
Eph.5:3
1 Thess. 4:3.7
1 Thess. 5:23
1 Peter 1:15,16
q self-control
Acts 24:16
Rom
1 Cor. 9:26
Gal. 5:23
q temptation and victory
Prov. 1:10
,15,16
1 Cor. 10:12,13
James 1:12-15
q priorities in life.
q solving conflicts.
4. Level Four: Engagement.
4.1 Process:
COURTSHIP – preparation for marriage.
4.2 What guidelines do you need to biblically fulfill your future roles as partners in a marriage?
q 'love is blind, marriage an eye opener'.
q becoming a godly husband.
Eph. 5:32
q becoming a godly wife
Prov. 31:10-31
1 Peter 3:3-4
2 Kings 4:8-36
q in-laws