Lessons from Ephesus: Busyness and Distractions
Dr Alex Tang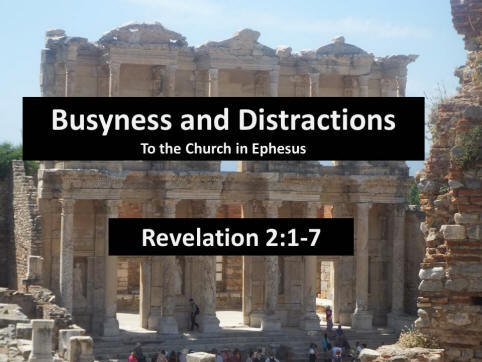 Text: Revelation 2:1-7
REV 2:1 "To the angel of the church in Ephesus write:
These are the words of him who holds the seven stars in his right hand and walks among the seven golden lampstands: 2 I know your deeds, your hard work and your perseverance. I know that you cannot tolerate wicked men, that you have tested those who claim to be apostles but are not, and have found them false. 3 You have persevered and have endured hardships for my name, and have not grown weary.
REV 2:4 Yet I hold this against you: You have forsaken your first love. 5 Remember the height from which you have fallen! Repent and do the things you did at first. If you do not repent, I will come to you and remove your lampstand from its place. 6 But you have this in your favor: You hate the practices of the Nicolaitans, which I also hate.
REV 2:7 He who has an ear, let him hear what the Spirit says to the churches. To him who overcomes, I will give the right to eat from the tree of life, which is in the paradise of God. (NIV)
The Structure of the Seven Letters
· The structure of the seven letters exhibits a high degree of symmetry. They follow a consistent pattern. The address is always "To the angel of the church of [the city]____"
· This is invariably followed by the identification of Christ as the sender of the letter, usually (though not in every case) describing him in terms drawn from the vision of chapter one.
· Jesus' first message to each church is: "I know your works." The churches' works are sometimes commendable, sometimes requiring censure.
o In three of the seven (Ephesus, Pergamos and Thyatira), the churches' good works are initially acknowledged, though there is the disclaimer: "Nevertheless I have a few things against you ...."
o Two churches (Smyrna and Philadelphia) are commended without any such complaint
o Two other churches (Sardis and Laodicea) receive only the complaint without any commendation.
o The five churches receiving rebuke (all except Smyrna and Philadelphia) are summarily commanded to repent, with some stated threat attached if they fail to do so.
· Each letter ends with a command to hear what the Spirit is saying to the churches and an encouraging promise to those who "overcome."
| | | | |
| --- | --- | --- | --- |
| 1 | Destination | 2:1a | "To the angel of the church in Ephesus write: |
| 2 | Description of Christ | 2:1b | These are the words of him who holds the seven stars in his right hand and walks among the seven golden lampstands: |
| 3 | Commendation | 2:2-3 | I know your deeds, your hard work and your perseverance. I know that you cannot tolerate wicked men, that you have tested those who claim to be apostles but are not, and have found them false. You have persevered and have endured hardships for my name, and have not grown weary. |
| 4 | Rebuke | 2:4 | Yet I hold this against you: You have forsaken your first love. |
| 5 | Exhortation | 2:5a | Remember the height from which you have fallen! |
| 6 | Warning | 2:5b-6 | Repent and do the things you did at first. If you do not repent, I will come to you and remove your lampstand from its place. But you have this in your favor: You hate the practices of the Nicolaitans, which I also hate. |
| 7 | Promise | 2:7 | He who has an ear, let him hear what the Spirit says to the churches. To him who overcomes, I will give the right to eat from the tree of life, which is in the paradise of God. |
1. Destination
Angel of the church in Ephesus
The angel is not a guardian angel or a human bishop but its prevailing spirit.
Ephesus – meaning "To let go, relax." According to some sources, also means "Desirable."
Ephesus was given the title "Supreme Metropolis of Asia." It was a large city which by NT times were estimated to have a population of 250,000. Ephesus was a major commercial, religious and cultural centre for Roman Asia.
· Commercial
o Three major trade route converge on the city;
§ From the Euphrates by way of Colossae
§ From Galatia through Sardis
§ From the Macander valley to the south and east
o A port, situated at the mouth of the Cayster River to the Aegean sea.
· Religious
o Imperial Cult
§ Temples were built to emperors Claudius, Hadrian, and Severus
o Temple of Artemis (Diana in Latin)
§ One of the seven wonders of the ancient world
§ Four times the size of the Parthenon in Athens
§ 127 pillars of Parian marble with 36 covered with gold and jewels according to Pliny the elder.
· Politico-Cultural
o Not the capital of Asia (Pergamum was)
o Roman free city, granted the right to self-governance
o A major stadium, marketplace and theater
o Library. One of the largest in the ancient world, it was said to contain 12,000 scrolls.
o The theatre can seat 25,000 spectators. When Paul created a riot, it was into this theatre that the spectators dragged his companions, Gaius and Aristarchus.
Ephesus and Christianity
· The Christian faith came to Ephesus perhaps with Aquila and Priscilla about AD 52 when Paul left them there while enroute from Corinth to Antioch (Acts 18: 18-22)
· Apollos, too, had been there (Acts 18:24-28) and had an effective ministry, especially as his understanding of the way of God was more accurately explained to him by Priscilla and Aquila (18:26).
· When Paul returned to Ephesus, he found a group of disciples who were familiar with John's baptism (probably the result of the teaching of Apollos), but had not yet received baptism in the name of the Lord Jesus (19:1-7). For three months, the apostle Paul taught in the synagogue at Ephesus, followed by two years of teaching in the school of Tyrannus. The result was that many were saved and the gospel was heard throughout Asia (19:8-12).
· When the seven sons of Sceva, a Jewish chief priest, attempted to cast out demons by using Paul's words and were overcome by them, the vast difference between magic and Christianity was demonstrated. Many of the new converts wished to make a complete break with the magic of their pagan past and burned their books publicly, books which were worth 50,000 pieces of silver. As a result, the gospel continued to flourish in Ephesus (19:13-20)
· Because of the size and dedication of the Ephesian church it became a threat to the idol-making industry in Ephesus. Led by Demetrius, a silversmith, his trade guild violently opposed Paul and the Ephesian church. An angry mob formed and two of Paul's companions were seized. While some of the Ephesian political officials restrained Paul from going before the hostile mob, the town clerk persuaded the crowd to settle their dispute in the courts, not in the street. Shortly after Paul left for Macedonia (Acts 19:23-20:1).
· Paul passed by Ephesus later because he was eager to reach Jerusalem in time for Pentecost and was determined not to be delayed by a stop in Asia. He did, however, call for the Ephesian elders to meet with him at Miletus (Acts 20:16ff.). It was there that Paul told them of the prophecies concerning the danger of his returning to Jerusalem. His final words concerned the kind of ministry he had demonstrated before them as an example for them to follow. Of particular importance are these words about false teachers (Acts 20:28-32)
· He later wrote to Timothy, whom he had instructed to remain on at Ephesus in order to deal with those who were teaching false doctrine (I Tim. 1:3-7). Of particular concern in the first epistle to Timothy was the matter of church leadership.
· Tradition would have it that John, too, had lived in Ephesus, during his old age. It was through him that the exalted Lord chose to address the church at Ephesus.
· Following the Edict of Thessalonica from emperor Theodosius I, what remained of the temple of Artemis was destroyed in 401 AD by a mob led by St. John Chrysostom
· Two decades later, the church at Ephesus was still important enough to be addressed by a letter written by Bishop Ignatius of Antioch to the Ephesians in the early 2nd century AD, that begins with, "Ignatius, who is also called Theophorus, to the Church which is at Ephesus, in Asia, deservedly most happy, being blessed in the greatness and fullness of God the Father, and predestinated before the beginning of time, that it should be always for an enduring and unchangeable glory" (Letter to the Ephesians). The church at Ephesus had given their support for Ignatius, who was taken to Rome for execution.
· A legend, which was first mentioned by Epiphanius of Salamis in the 4th century AD, purported that Mary may have spent the last years of her life in Ephesus. The Ephesians derived the argument from John's presence in the city, and Jesus' instructions to John to take care of Mary after his death. Epiphanius, however, was keen to point out that, while the Bible says John was leaving for Asia, it specifically does not say that Mary went with him. He later stated that she was buried in Jerusalem. Since the 19th century, The House of the Virgin Mary, about 7 km (4 mi) from Selçuk, is purported to have been the last home of Mary, mother of Jesus in the Roman Catholic tradition, based on the visions of Sister Anne Catherine Emmerich. It is a popular place of Catholic pilgrimage which has been visited by three recent popes.
· The Church of Mary close to the harbor of Ephesus was the setting for the Third Ecumenical Council in 431, which resulted in the condemnation of Nestorius. A Second Council of Ephesus was held in 449, but its controversial acts were never approved by the Catholics. It came to be called the Robber Council of Ephesus or Robber Synod of Latrocinium by its opponents.
2. Description of Christ
Christ's Care of the Churches
The reference to Christ as the one who holds the seven stars in His right hand and who walks in the midst of the seven golden lampstands (v. 1) may call attention to the fact that, while the church's heavenly existence is secure in the sovereign care of Christ, he must visit the earthly counterparts to inspect and correct their conduct and attitudes. Christ holds the angels (they are in his control) and walks among the lampstands (he is present in their midst and aware of their activities). As a priest in the temple tends the lamp and keeps them from growing dim or going out, Christ moves among the churches to attend to the purity and brightness of the light they give to the world.
3. Commendation
a. Doctrinal purity
Verse 3 summarizes their perseverance. They endured. They had not grown weary but things were not as they should be. Ephesus was orthodox in theology, practice, and service, yet something was missing which, if not corrected, would ruin their light-bearing capacity. They strove against the false teachers and retained their doctrinal purity. In rooting out error and expelling false teachers, they had grown suspicious of one another. I once heard a preacher refer to people whose theology was "clear as ice and just as cold." [1]
b. Good works
They did good works.
4. Rebuke
Thy first love (την ἀγαπην σου την πρωτην [tēn agapēn sou tēn prōtēn]). "Thy love the first." This early love, proof of the new life in Christ (1 John 3:13f.), had cooled off in spite of their doctrinal purity. They had remained orthodox, but had become unloving partly because of the controversies with the Nicolaitans.[2]
You have forsaken your first love. Some interpreters think this refers to the love (Greek agapé) they had for Christ when they were new converts. In the context, however, it refers mainly to their love for one another which Christ had said was the hallmark for his disciples (John 13:35).
First Love: Loving God and loving others
Misplaced love: Loving God → Loving doctrinal purity
Loving others → Loving good works
They had left their first love. They had become enamoured of things other than the person of Christ. (1 John 2:15-17) They hated false teachers and false teachings, as well they should, but they left their first love – Jesus no longer had the preeminence in their lives. (Psalm 119:104, 127-128; Romans 12:9; 1 Thessalonians 5:21-22)
First love is:
1) The love of espousals. (Jeremiah 2:2)
What was missing is that they had left their first love (Jer. 2:2).
2 "Go and proclaim in the hearing of Jerusalem:
" `I remember the devotion of your youth,
how as a bride you loved me
and followed me through the desert,
through a land not sown.

2) The love of a bridegroom for his bride. (2 Corinthians 11:2)
The local church is espoused to Christ (2 Cor. 11:2), but there is always the danger of that love growing cold. Like Martha, we can be so busy working for Christ that we have no time to love Him (Luke 10:38–42). "Christ is more concerned about what we do with Him than for Him." Labor is no substitute for love. To the public, the Ephesian church was successful; to Christ, it had fallen.[1]
When the Lord first appointed the twelve disciples, it is significant that Mark tells us that Jesus appointed them for two main purposes marked off by two Jina purpose clauses in the Greek text: (a) to be with Him and (b) to send them forth to preach and to cast out demons, and the order here is very significant. The first order of His appointment was their fellowship, being with the Lord Jesus, with their ministry in the world being the product of that fellowship as root to fruit or enablement to activity.

3) The one thing that the Lord wants. (Matthew 22:37-38; John 21:15-17)
MT 22:37 Jesus replied: " `Love the Lord your God with all your heart and with all your soul and with all your mind.' 38 This is the first and greatest commandment. 39 And the second is like it: `Love your neighbor as yourself.' 40 All the Law and the Prophets hang on these two commandments."
JN 21:15 When they had finished eating, Jesus said to Simon Peter, "Simon son of John, do you truly love me more than these?"
"Yes, Lord," he said, "you know that I love you."
Jesus said, "Feed my lambs."
JN 21:16 Again Jesus said, "Simon son of John, do you truly love me?"
He answered, "Yes, Lord, you know that I love you."
Jesus said, "Take care of my sheep."
JN 21:17 The third time he said to him, "Simon son of John, do you love me?"
Peter was hurt because Jesus asked him the third time, "Do you love me?" He said, "Lord, you know all things; you know that I love you."
Jesus said, "Feed my sheep.
"Forsaken first love." The word "left" is the Greek word afihmi, "to leave, forsake, depart." It stresses an act for which one is personally responsible. This is misplaced love:
· they had moved away from their original position of devotion and fervor for the Savior by a gradual departure (Heb. 3:7f)
· they came to put service for the Lord ahead of love, devotion, and fellowship with Him (remember 1 Thessalonians 1:3 and compare Proverbs 4:23)
· their labor gradually came to be merely mechanical, the thing they were responsible to do, but the Savior wants it to be the result of the abiding life, the result of an intimate walk with Him through the Spirit of God (John 15:1-7; Gal. 5:1-5, 16-26; Eph. 5:18)
A key to their problem can be observed by comparing the deeds, labor and perseverance here with that of the church at Thessalonica (1 Thess. 1:3) where the same Greek words are used, only we should note the accompanying phrases—work of faith, labor of love, and endurance of hope. Faith, love and hope were the sources of the work, the labor, and the endurance. This stressed production from a vital spiritual life.[2]
3 We continually remember before our God and Father your work produced by faith, your labor prompted by love, and your endurance inspired by hope in our Lord Jesus Christ.
A generation or two earlier, the Ephesians were commended for their love. (Ephesians 1:15-16) When Paul wrote to the believers at Ephesus, he reminded them of their exalted position in Christ. He told them that they were raised up together and seated in the heavenly places in Christ. (Ephesians 2:6) John simply says, "Thou art fallen…" They had fallen from their fellowship with Him and had lost His power and the reality of His presence in their daily lives.
5. Exhortation
Ephesus - what was once "desirable" became backslidden, as these believers "let go" of their love for the Lord Jesus Christ and "relaxed" their fervency and devotion to Him.
a. Remember
b. Repent
c. Restore
i. Time out for God; dealing with busyness
John Stephen Piper (born January 11, 1946) is a Calvinistic Baptist Christian preacher and author who served as Pastor for Preaching and Vision of Bethlehem Baptist Church in Minneapolis, Minnesota for 33 years. His books include ECPA Christian Book Award winners Spectacular Sins, What Jesus Demands from the World, Pierced by the Word, and God's Passion for His Glory, and bestsellers Don't Waste Your Life and The Passion of Jesus Christ. The evangelical organization Desiring God is named for his book Desiring God: Meditations of a Christian Hedonist (1986).
· eight-month leave of absence from his ministry from May 1, 2010 to January 9, 2011 for time out with God amidst a busy ministry. He wanted to regain his first love
· March 31, 2013 (Easter Sunday), he preached his final sermon as pastor of Bethlehem Baptist and announced in an open letter to the congregation that he and his family would be moving to Tennessee for at least a year so that the new leadership can develop a strategic vision for the church without distractions.
ii. Time for reflection: dealing with distractions
iii. Gratitude
iv. Remember who you are
Bruce Waltke. 2013. The Dance between God and Humanity. Grand Rapids, MI: Eerdmans, 254
Here then is good news [based on Prov. 15:30-16:15]: the Lord establishes forever as part of his eternal plan the creative words and deeds of the pure in heart in their overcoming of evil. When the disciple trusts the Lord to dance with him he will find gladness, peace, refreshment, life, favorable space with the wise, good judgment, a relationship with God, and social honor.
By learning the steps of this dance he also learns the "ABCDary" for correcting what is wrong:
A: Arrange your thoughts before you speak, then turn it over to him for your expression to be effective.
B: Beware of your motives; don't be so cocksure of your purity; God alone evaluates them accurately.
C: Commit your deeds to the Lord; then you will participate creatively in the salvation history that endures forever.
v. Love is a high maintenance relationship
6. Warning
The warning that Christ will come to you quickly and remove your lampstand from its place (v. 5) can hardly refer to the Second Coming and almost certainly speaks of the total extinction of the church in that location. Today there no city or church in the Turkish location that was once Ephesus. Islam has been established in this region which Paul had once thoroughly evangelized (Acts 19:10).
7. Promise
In this case, the promise will be to eat from the tree of life, which is in the midst of the Paradise of God (v.7). The name Paradise—from a Persian word meaning "pleasure park"—had originally been applied to the Garden of Eden in the Septuagint, the Greek Old Testament (Gen. 2:8; Ezek. 28:13). It was the location of the original tree of life. After to Adam and Eve fell, God barred sinful man from access to the fruit of this tree, the eating of which would have conferred eternal life (Gen. 3:22). In the New Testament, Jesus and Paul apply the term spiritually to the place of the departed spirits of the faithful (Luke 23:43; 2 Cor. 12:4), and in Revelation 22:2, the tree of life is seen growing in the New Jerusalem. Thus the promise to overcomer translates into a guarantee of eternal life in heaven.
Homework
· Reflect on Psalm 23 this week
PS 23:1 The LORD is my shepherd, I shall not be in want.
PS 23:2 He makes me lie down in green pastures,
he leads me beside quiet waters,
PS 23:3 he restores my soul.
He guides me in paths of righteousness
for his name's sake.
PS 23:4 Even though I walk
through the valley of the shadow of death,
I will fear no evil,
for you are with me;
your rod and your staff,
they comfort me.
PS 23:5 You prepare a table before me
in the presence of my enemies.
You anoint my head with oil;
my cup overflows.
PS 23:6 Surely goodness and love will follow me
all the days of my life,
and I will dwell in the house of the LORD
forever.
Preached
Holy Light Church (English), 22 September 2013
Updated and preached
Unity Presbyterian Church, 6 October 2013
Soli Deo Gloria
Download (mp3)
My travelnotes and photogallery of Ephesus

---
[1] Easley, K. H. (1998). Vol. 12: Revelation. Holman New Testament Commentary (35). Nashville, TN: Broadman & Holman Publishers.
[2] Robertson, A. (1933). Word Pictures in the New Testament (Re 2:4). Nashville, TN: Broadman Press.