Paul's Vision at Corinth
Alex Tang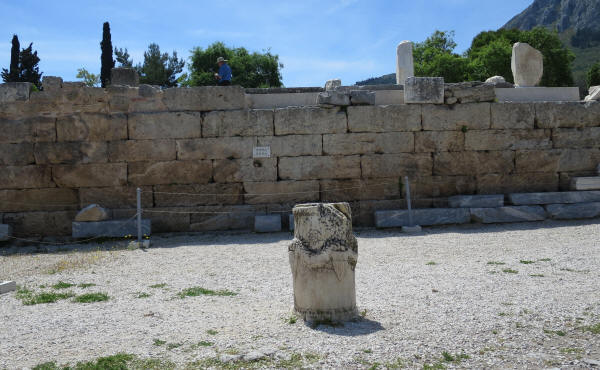 This was the second vision that Paul received on his second missionary journey. The first was a vision of a man from Macedonia which result in a new direction and the gospel reaching the shores of Europe. This second vision at Corinth (Acts 18:9-10) was of a different nature.
Acts 18:1–11 (NAB)
1 After this he left Athens and went to Corinth. 2 There he met a Jew named Aquila, a native of Pontus, who had recently come from Italy with his wife Priscilla because Claudius had ordered all the Jews to leave Rome. He went to visit them 3 and, because he practiced the same trade, stayed with them and worked, for they were tentmakers by trade. 4 Every sabbath, he entered into discussions in the synagogue, attempting to convince both Jews and Greeks.
5 When Silas and Timothy came down from Macedonia, Paul began to occupy himself totally with preaching the word, testifying to the Jews that the Messiah was Jesus.
6 When they opposed him and reviled him, he shook out his garments and said to them, "Your blood be on your heads! I am clear of responsibility. From now on I will go to the Gentiles." 7 So he left there and went to a house belonging to a man named Titus Justus, a worshiper of God; his house was next to a synagogue. 8 Crispus, the synagogue official, came to believe in the Lord along with his entire household, and many of the Corinthians who heard believed and were baptized.
9 One night in a vision the Lord said to Paul, "Do not be afraid. Go on speaking, and do not be silent, 10 for I am with you. No one will attack and harm you, for I have many people in this city." 11 He settled there for a year and a half and taught the word of God among them.
Acts 18:12-17 that follows detailed the Jews in Corinth attacking Paul by trying to get Gallio, the new proconsul of Galatia involved. The plan fell apart when Gallio refused to be involved and ended by them turning on their own synagogue leader, Sosthenes and beating him! Paul had been facing rejection, humiliation and persecution since he landed on European soil. He was beaten and imprisoned in Philippi. He was challenged by the intellectual giants in Athens. So why another vision now?
It is possible that God wanted to encourage and strengthen Paul's resolution by helping him to refocus and renew his calling. From his dramatic encounter with Jesus (which by the way was not a conversion experience as Paul already believe in the One God and His Messiah but a revelation that Jesus is the Messiah!), Paul was very conscious of his being set aside by God for a special task. Some may refer to this as his calling. Paul, himself referred to this when he wrote in his Epistles to the Galatians;
Galatians 1:15–16 (NAB)
15 But when (God), who from my mother's womb had set me apart and called me through his grace, was pleased 16 to reveal his Son to me, so that I might proclaim him to the Gentiles, I did not immediately consult flesh and blood, …
When he referred to his being set apart in his mother's womb, Paul must have in mind a reference to the Servant of the Lord in Isaiah 49.
Isaiah 49:5–6 (NAB)
5 For now the LORD has spoken who formed me as his servant from the womb, That Jacob may be brought back to him and Israel gathered to him; And I am made glorious in the sight of the LORD, and my God is now my strength! 6 It is too little, he says, for you to be my servant, to raise up the tribes of Jacob, and restore the survivors of Israel; I will make you a light to the nations, that my salvation may reach to the ends of the earth.
The nations is the Gentiles. That Paul saw himself in the vocation of the Servant to bring the Gentiles and salvation to the ends of the earth was evident in Acts 13:47. In Psidian Antioch during the first missionary journey Paul said;
Acts 13:47 (NAB)
47 For so the Lord has commanded us, 'I have made you a light to the Gentiles, that you may be an instrument of salvation to the ends of the earth.'"
Here in Corinth, God wanted to remind Paul that he was His instrument to bring the true gospel (see the issues in Galatians about the Judiazer's gospel) to the Gentiles to the ends of the earth. God seem to pointing out to Paul that he was in Corinth, still part of the civilized world, and not at the ends of the earth yet. Paul may have thought his mission fulfilled after Athens and Corinth. God's vision seems to encourage Paul to be strong, of good courage and carry out his mission fully.
As a Christian, I find that I often struggle with the concept of God's calling. This is because of my misconception that we [Christians] are all lepaking/standing around. God comes around, sees me and call, "Alex, come here. I've something for you to do". I am sure if God calls this way, we are equipped to do the task. However, from what I see of others' respond to this so called 'God's calling', they seem to be finding themselves as 'round pegs in square holes'. I like Paul's concept of being set aside even before we are born. This setting aside for a mission means that we are born with the natural, emotional and spiritual abilities to perform the allocated tasks. It also implies that there are certain tasks that only we can do. We may say that we are created to do these tasks. The reverse is that there are other tasks we cannot do and we should not attempt to do them. This make more sense to me than God randomly calling us to perform any task needed. Thus the understanding of God's calling is to find what it is that God created for us to do rather than randomly doing whatever needs to be done. Hence the axiom "needs does not constitute a calling" makes more sense.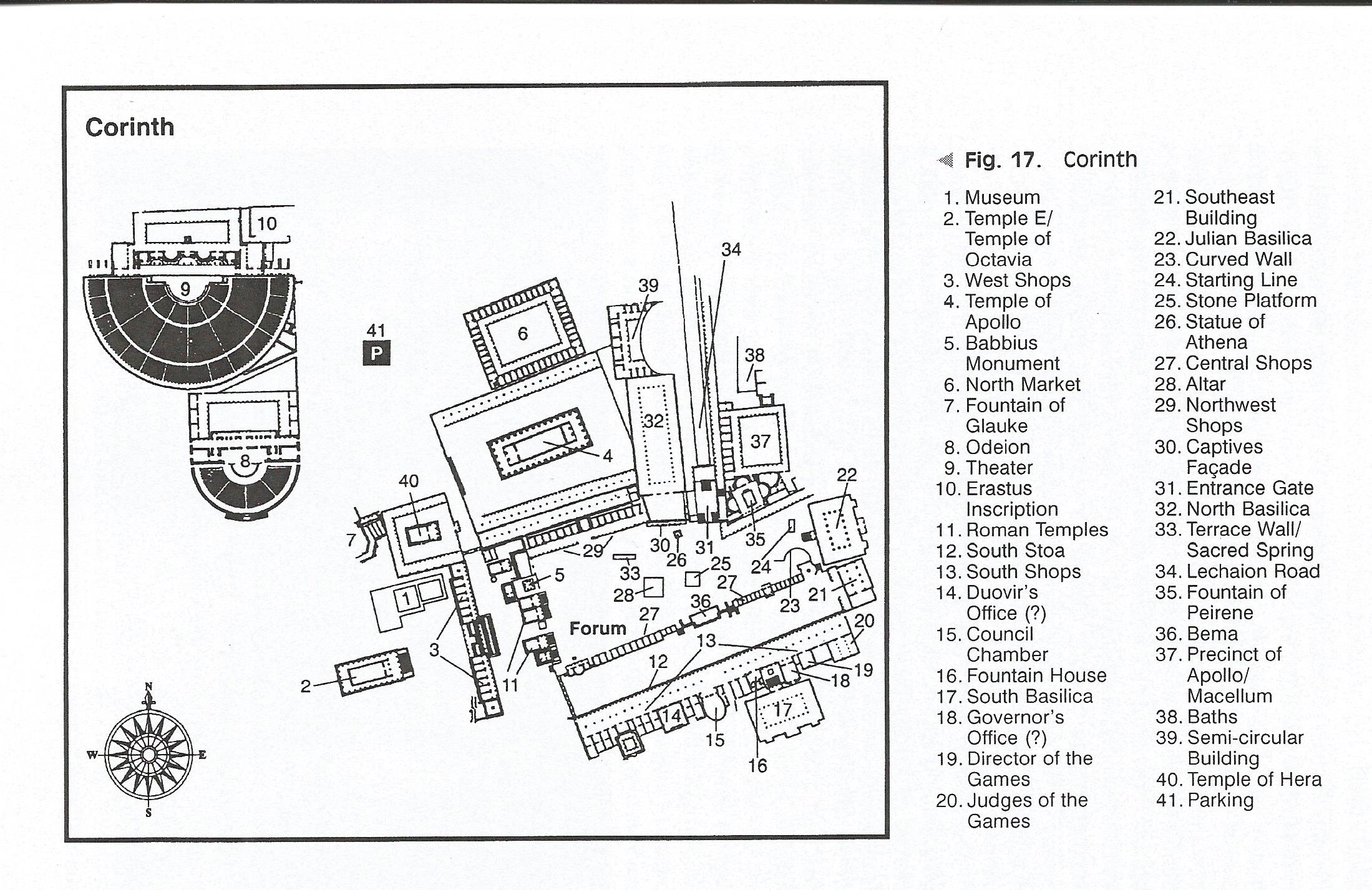 source: Clyde Fant and Mitchell Reddish (2003), A Guide to Biblical Sites in Greece and Turkey, Oxford, UK: Oxford University Press, 58
Photo Gallery of Ancient Corinth
click on photos to enlarge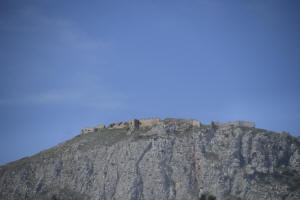 acrocorinth on the top of the hill north of ancient corinth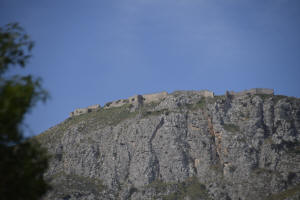 castle on acrocorinth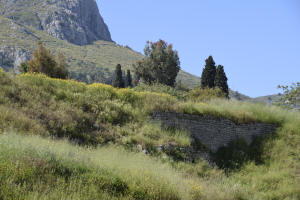 retaining wall near the odeion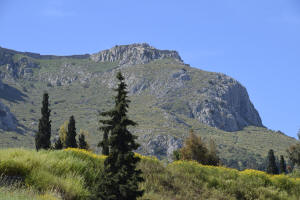 defensive walls of acrocorinth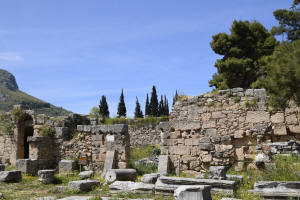 west shops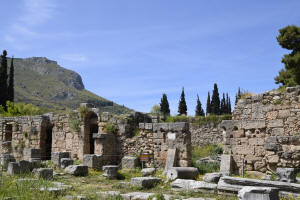 west shops/west stoa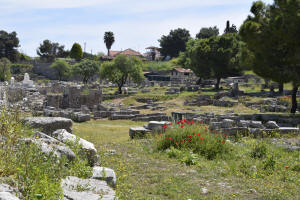 view from west shops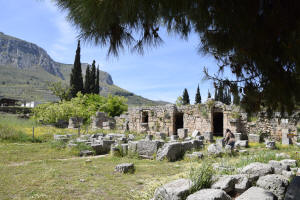 west shops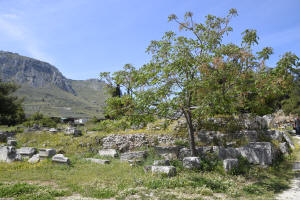 Roman temple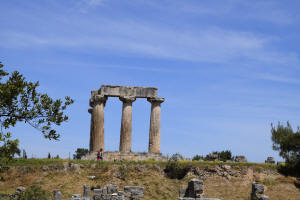 Temple of Apollo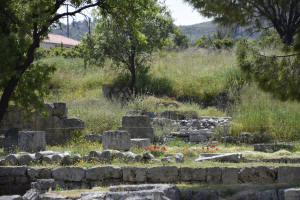 central shops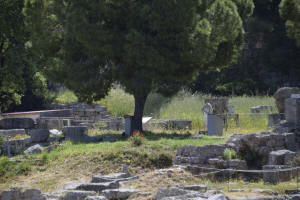 central shops in foreground, south stoa and shops in background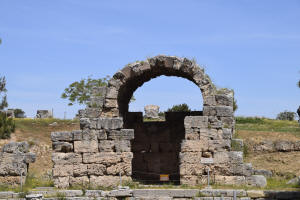 northwest shops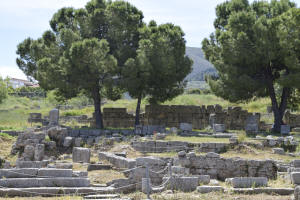 central and south shops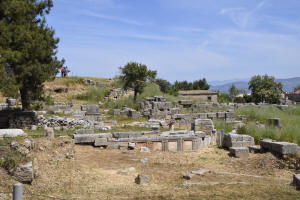 Babbius Monument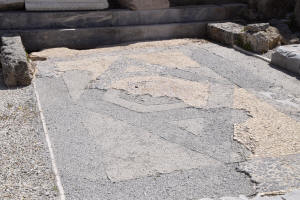 floor pattern, west wall of bema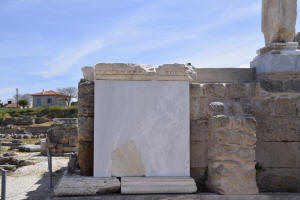 west side of bema in Roman Forum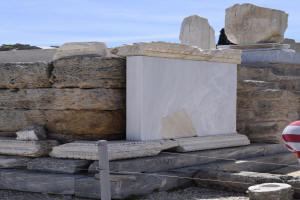 original bema may be covered with marble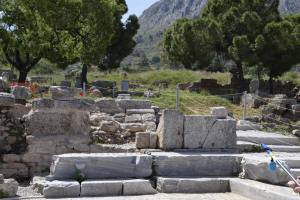 eastern central shops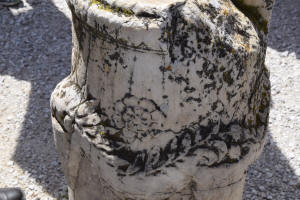 prisoner pillar before the bema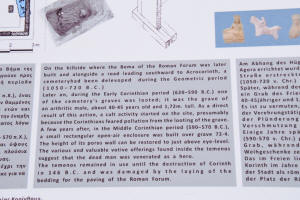 click to enlarge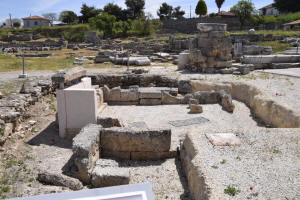 Heroon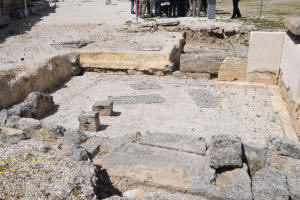 floor of Heroon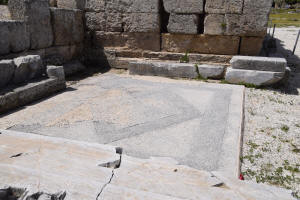 pavement pattern on easter side of bema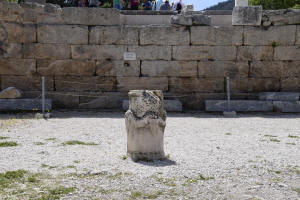 Paul may be at prisoner pillar while Gallio sat on the bema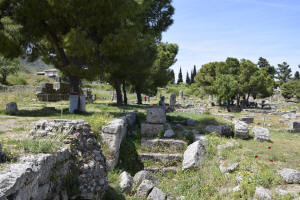 central shops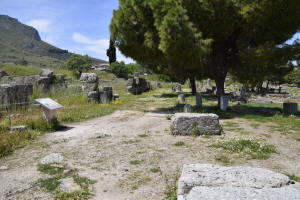 south stoa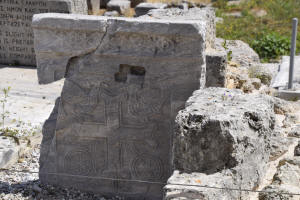 engraved stone on bema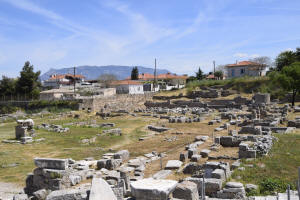 central stoa with Julian basilica at the far end before the modern houses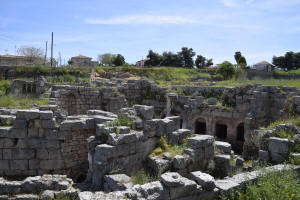 Fountain of Peirene on the right of the Lechaion Road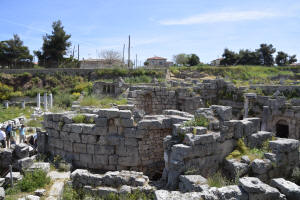 Fountain of Peirene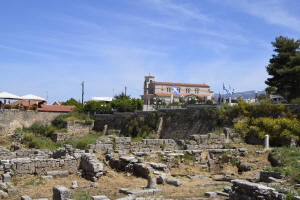 North Basilica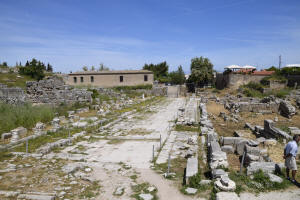 Lechaion Road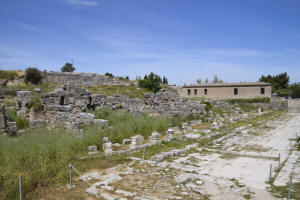 Lechaion Road. North bsiclia on left. Fountain of Peirene and bathhouse on right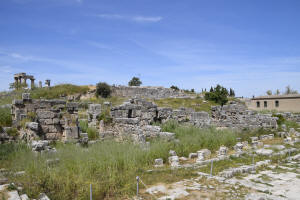 North Basilica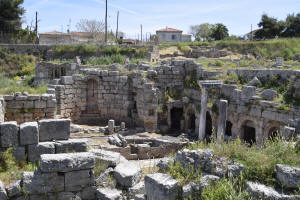 Fountain of Peirene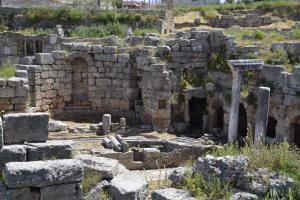 Fountain of Peirene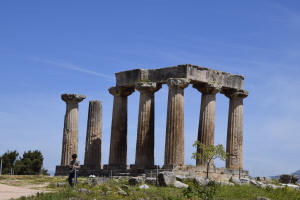 Temple of Apollo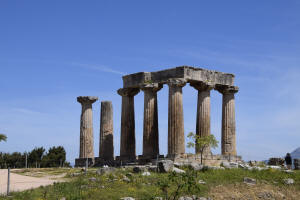 Temple of Apollo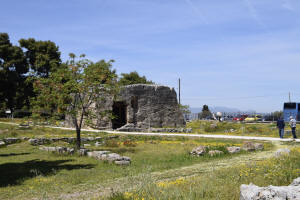 Fountain of Glauke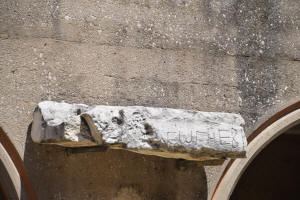 stone with inscription 'synagogue' in museum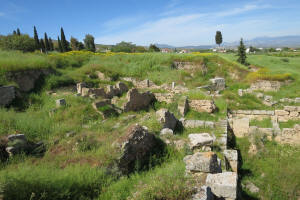 odeion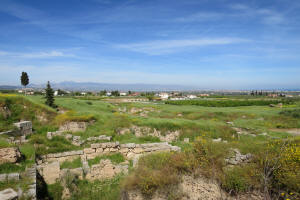 theatre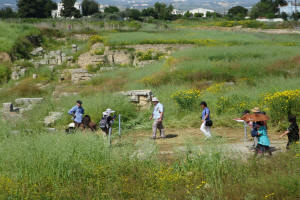 from front: Erastus inscription, Paul Baker, theatre, odeion, carpark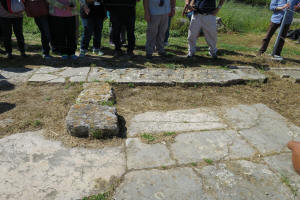 Erastus inscription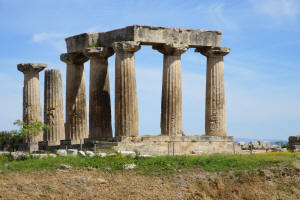 Temple of Apollo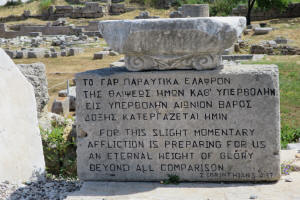 Kar Yong Stone
More on Bible Lands
16 June 2015