The November Institute 2008
Malaysia Bible Seminary
Klang, Malaysia
17-20 November 2008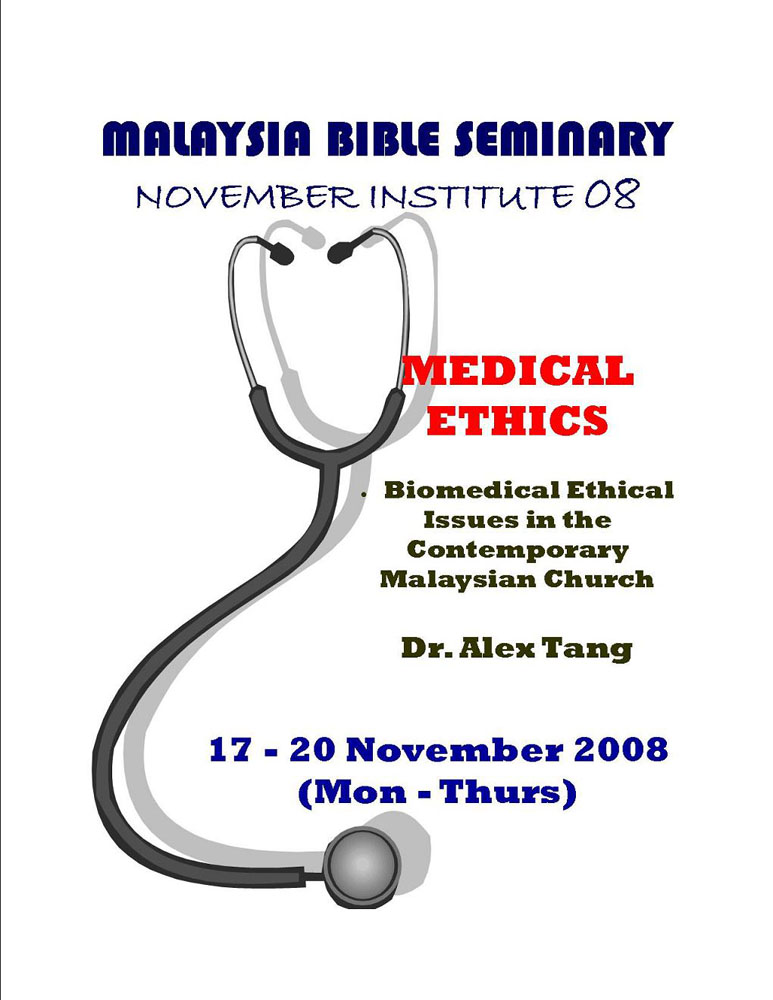 Biomedical Ethical Issues in the Contemporary Malaysian Church
Course Description
Advances in medical treatment modalities, biotechnological innovations, and genetic-molecular manipulations have brought about a set of unique challenges to issues not faced by the Church before. In this course, a pastoral-theological approach will be used to examine, reflect and develop responses to these difficult moral and ethical issues – test tube and designer babies, facts and fallacies of stem cell therapies, cloning, reproductive issues, abortion, mercy-killing, allocation of scarce healthcare resources, living will, gene therapy, prenatal diagnosis, aesthetic surgery- facing the contemporary Malaysian Church. This course is relevant to pastors, theologians, church leaders, counsellors, seminarians, doctors, and all Christians who are committed to living ethically in these changing times.
Intended Learning Outcomes
The desired outcome of this course is that participants will demonstrate analytical and evaluative skills in their approach to biomedical ethical issues in their own ecclesiastical and cultural context.
By the end of this course, it is hoped that participants will
have an enlarged knowledge base of

the foundations of bioethics

pastoral-theological decision making

bioethical issues at the beginning of life, and reproductive medicine

bioethical issues of genetics; stem cells, cloning, and gene therapy

bioethical issues at end of life, death and dying, and organ transplantation

have improved their ability to critically reflect on the continuing dialogue of theology, culture and bioethics

be able to offer pastoral help and counsel on biomedical ethical issues
Biomedical Ethics reader (for students)
Session 1: Introduction to Biomedical Ethics
Session 2: Issues in the Beginning of Life
Session 3: Issues in Reproduction
Session 4: Issues about genes and cells
Session 5: Issues about the end of life (Part 1)
Session 6: Issues about the end of life (Part 2)
Session 7: Developing a Christian pastoral-theological approach to Biomedical Ethics